Photo Contests
Summer Memories Photo Contest
Share
photos that show your kids enjoying the warm days and nights
!
Goofy Grins Photo Contest
Meet
the winner
, Yuchen, and the finalists.
Kids & Pets Photo Contest
Meet
the winners
, Hennie and her pups, and the finalists.
Family Hugs Photo Contest
Meet
the winners
, Lindley and her parents, and the finalists.
Photo Albums
Adoption Photo: Walking for the cure for MS and proud to have crossed the finish line
This picture is from the MS Walk 2011. My son was very proud to receive his medal after finishing the walk - he looked up at me with that wonderful smile to say mommie I did this for you. Not only is this picture special to me but the NJ MS chapter used this photo for their reminder post card for the MS Walk 2012.
Tags:
Laughing
With Mom
Outdoors
Running
Special Occasions
Spring
Birth Countries of Children Pictured:
Vietnam
Recently Uploaded
AF Daily Pic


Proudly Making Messes
- Uploaded by MommyxTwo on Jul 16, 2017
76 Views | Add a comment...
Find an Adoption Attorney or Agency
CURRENT ISSUE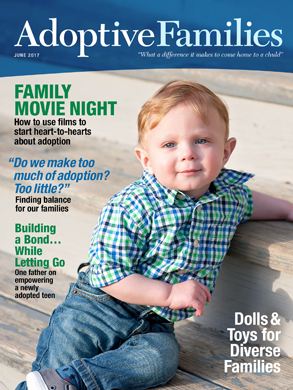 • Movies with adoption themes + questions to spark discussion
• A father on empowering his newly adopted teen
• Diverse dolls and toys for transracial adoptive families
• "Do we talk about adoption enough? Too much?"
---