Photo Contests
Summer Memories Photo Contest
Share
photos that show your kids enjoying the warm days and nights
!
Goofy Grins Photo Contest
Meet
the winner
, Yuchen, and the finalists.
Kids & Pets Photo Contest
Meet
the winners
, Hennie and her pups, and the finalists.
Family Hugs Photo Contest
Meet
the winners
, Lindley and her parents, and the finalists.
Photo Albums
Adoption Photo: Gracyn turns 4!
2 plus 2, equals FOUR! She came home at 2, she's been home for 2 years, and WOW, is she really already FOUR? A significant milestone to celebrate. What they say about the time spent apart, and the time spent with their forever family, certainly held true for ours. We needed every bit of the two years to bond, and I most definitely see the changes. I was heartbroken back in 2008 when I found out I'd be hopping on a plane 2 days AFTER her 2nd birthday, but in retrospect, it was so much better for her celebrate her special day with the foster family who cared for her for her entire life. I'm no longer a stranger, I'm her Mommy, and celebrating her 4th Birthday was truly about her, not the day we met, or the day she stepped onto US Soil. We no longer really count the days she's been home. It feels like she's always been a part of our family.
Tags:
Taiwan
Birth Countries of Children Pictured:
Taiwan
Recently Uploaded
AF Daily Pic


Proudly Making Messes
- Uploaded by MommyxTwo on Jul 16, 2017
76 Views | Add a comment...
Find an Adoption Attorney or Agency
CURRENT ISSUE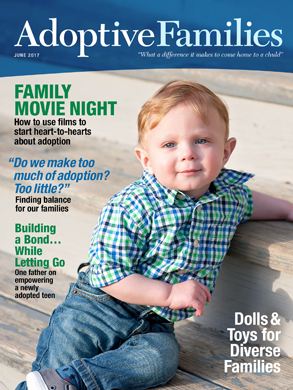 • Movies with adoption themes + questions to spark discussion
• A father on empowering his newly adopted teen
• Diverse dolls and toys for transracial adoptive families
• "Do we talk about adoption enough? Too much?"
---