Photo Contests
Summer Memories Photo Contest
Share
photos that show your kids enjoying the warm days and nights
!
Goofy Grins Photo Contest
Meet
the winner
, Yuchen, and the finalists.
Kids & Pets Photo Contest
Meet
the winners
, Hennie and her pups, and the finalists.
Family Hugs Photo Contest
Meet
the winners
, Lindley and her parents, and the finalists.
Photo Albums
Adoption Photo: Hug and Smooch!
This photo was taken around the time of our adoption finalization for our adoption announcement. We had our two siblings sitting next to each other, and Ryan, 2&1/2, leaned over and hugged his sister, Isabelle, 1, and gave her a kiss on her forehead on his own. It was such a sweet, tender, aww, moment.
Tags:
Adoption Announcement
Fall
Hug
Kiss
Outdoors
Park
Siblings
Our Family
Birth Countries of Children Pictured:
US Foster
Recently Uploaded
AF Daily Pic


Hanging out with Dad
- Uploaded by MommyxTwo on Jul 16, 2017
72 Views | Add a comment...
Find an Adoption Attorney or Agency
CURRENT ISSUE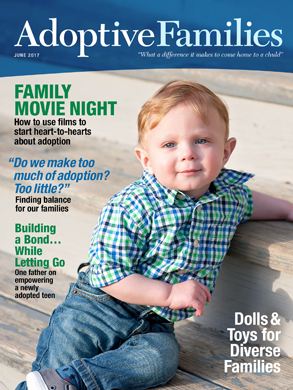 • Movies with adoption themes + questions to spark discussion
• A father on empowering his newly adopted teen
• Diverse dolls and toys for transracial adoptive families
• "Do we talk about adoption enough? Too much?"
---