Photo Contests
Summer Memories Photo Contest
Share
photos that show your kids enjoying the warm days and nights
!
Goofy Grins Photo Contest
Meet
the winner
, Yuchen, and the finalists.
Kids & Pets Photo Contest
Meet
the winners
, Hennie and her pups, and the finalists.
Family Hugs Photo Contest
Meet
the winners
, Lindley and her parents, and the finalists.
Photo Albums
Adoption Photo: Brian
Brian (1, U.S.) / son of Melissa and David
PHOTOGRAPHER: JENNIFER PORTER, with CREATIVE IMAGES
"We had photos taken when Brian turned one. Jennifer had all these teddy bears set up around him, and he just leaned over, picked one up, and hugged it. To me, this picture captures how playful, sweet, and loving Brian can be—and I love his dimples in it!" —MELISSA
Tags:
Birthday
Hug
Toys/Stuffed Animals
Birth Countries of Children Pictured:
US
Recently Uploaded
AF Daily Pic


Proudly Making Messes
- Uploaded by MommyxTwo on Jul 16, 2017
76 Views | Add a comment...
Find an Adoption Attorney or Agency
CURRENT ISSUE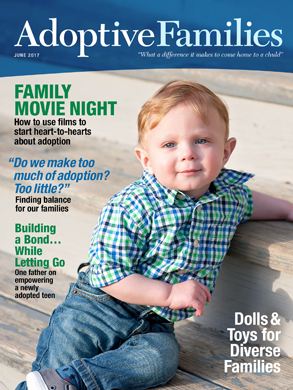 • Movies with adoption themes + questions to spark discussion
• A father on empowering his newly adopted teen
• Diverse dolls and toys for transracial adoptive families
• "Do we talk about adoption enough? Too much?"
---