Photo Contests
Mommy Moments Photo Contest
Share
photos that include Mom, Birth Mom, or Grandmother
!
Daddy Moments Photo Contest
Share
photos that include Dad, Birth Dad, or Grandfather
!
Kids & Pets Photo Contest
Meet
the winners
, Hennie and her pups, and the finalists.
Family Hugs Photo Contest
Meet
the winners
, Lindley and her parents, and the finalists.
Photo Albums
Adoption Photo: Kyra
Kyra (5, China) / daughter of Kristin and Keith
PHOTOGRAPHER: MOLLY SHIELDS
"Kyra has a ton of energy—in all the photos taken before this she was running, spinning around. But if something interests her, she is laser-focused—and this patch of dandelions caught her attention. We adopted Kyra at age four, and people often think that, when you adopt an older child, you miss out on all kinds of 'firsts.' We've found there are so many things for children to learn and discover; seeing her child-like wonder at blowing a dandelion for the first time was just one amazing example" —KRISTIN
Tags:
Flowers
Outdoors
Park
Birth Countries of Children Pictured:
China
Recently Uploaded
AF Daily Pic


Sons graduation
- Uploaded by ddkoontz51 on Jun 20, 2017
62 Views | Add a comment...
Find an Adoption Attorney or Agency
CURRENT ISSUE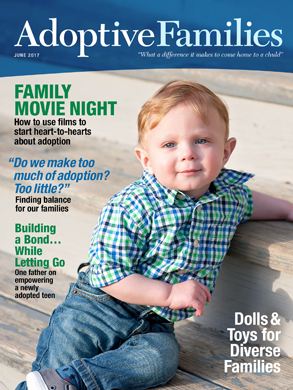 • Movies with adoption themes + questions to spark discussion
• A father on empowering his newly adopted teen
• Diverse dolls and toys for transracial adoptive families
• "Do we talk about adoption enough? Too much?"
---