Photo Contests
Summer Memories Photo Contest
Share
photos that show your kids enjoying the warm days and nights
!
Goofy Grins Photo Contest
Meet
the winner
, Yuchen, and the finalists.
Kids & Pets Photo Contest
Meet
the winners
, Hennie and her pups, and the finalists.
Family Hugs Photo Contest
Meet
the winners
, Lindley and her parents, and the finalists.
Photo Albums
Adoption Photo: Kinsey
Kinsey (3, U.S. foster) / daughter of Lara and Jerry
PHOTOGRAPHER: AMY MELSA PHOTOGRAPHY
"Kinsey had only been home about two months, and was still figuring out who all these new people were. This baby doll was one of the first toys we got her, and it quickly became her favorite comfort item. You can see how she's clutching it in this picture! In some of the later images from this photo shoot she has a bigger smile, but we felt this expression was more true to her personality." —LARA
Tags:
Outdoors
Toys/Stuffed Animals
Birth Countries of Children Pictured:
US Foster
Recently Uploaded
AF Daily Pic


Summer Cabin Fun
- Uploaded by svgerard on Jul 22, 2017
78 Views | Add a comment...
Find an Adoption Attorney or Agency
CURRENT ISSUE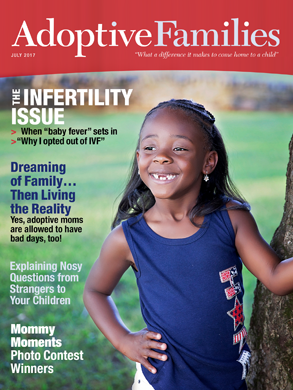 • Excerpt from The Art of Waiting: When "Baby Fever" hits
• One mom shares why she opted out of IVF
• On explaining to our children why our families draw stares and questions
• "Aren't adoptive moms allowed to have a bad day?!"
---