Photo Contests
Summer Memories Photo Contest
Share
photos that show your kids enjoying the warm days and nights
!
Goofy Grins Photo Contest
Meet
the winner
, Yuchen, and the finalists.
Kids & Pets Photo Contest
Meet
the winners
, Hennie and her pups, and the finalists.
Family Hugs Photo Contest
Meet
the winners
, Lindley and her parents, and the finalists.
Photo Albums
Adoption Photo: Vincent
Vincent (2, U.S.) / son of Laura and Brad
PHOTOGRAPHER: LAURA
"I took this photo and framed it as a gift for our son's birth mother last Mother's Day. We share this holiday, we don't do the "Birth Mother's Day" thing. Without her, I couldn't have been a mom, so I would never cut her out of the picture like that. She absolutely loved the photo, and so do I!"
—LAURA
Tags:
Birth Family
Mother's Day
Outdoors
Birth Countries of Children Pictured:
US
Recently Uploaded
AF Daily Pic


Summer Cabin Fun
- Uploaded by svgerard on Jul 22, 2017
34 Views | Add a comment...
Find an Adoption Attorney or Agency
CURRENT ISSUE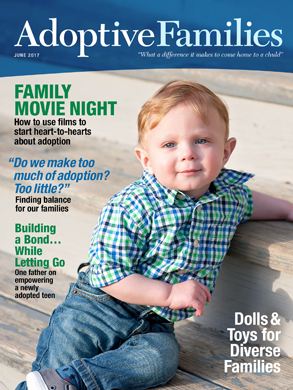 • Movies with adoption themes + questions to spark discussion
• A father on empowering his newly adopted teen
• Diverse dolls and toys for transracial adoptive families
• "Do we talk about adoption enough? Too much?"
---