Photo Contests
Summer Memories Photo Contest
Share
photos that show your kids enjoying the warm days and nights
!
Goofy Grins Photo Contest
Meet
the winner
, Yuchen, and the finalists.
Kids & Pets Photo Contest
Meet
the winners
, Hennie and her pups, and the finalists.
Family Hugs Photo Contest
Meet
the winners
, Lindley and her parents, and the finalists.
Photo Albums
Adoption Photo: Finally home
After a 36 hour labor and a three night stay at the hospital, we were finally able to take our son home. This picture was taken at our home, eight days after our son was born. Our son Mason is amazing and we feel so blessed to be his parents! We are also incredibly grateful to his birth parents who chose us to be mom and dad to this sweet baby boy!
Tags:
Our Family
Birth Countries of Children Pictured:
US
Recently Uploaded
AF Daily Pic


Summer Cabin Fun
- Uploaded by svgerard on Jul 22, 2017
34 Views | Add a comment...
Find an Adoption Attorney or Agency
CURRENT ISSUE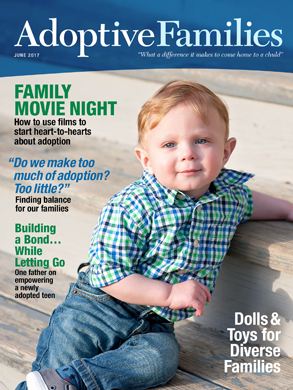 • Movies with adoption themes + questions to spark discussion
• A father on empowering his newly adopted teen
• Diverse dolls and toys for transracial adoptive families
• "Do we talk about adoption enough? Too much?"
---