Photo Contests
Mommy Moments Photo Contest
Share
photos that include Mom, Birth Mom, or Grandmother
!
Daddy Moments Photo Contest
Share
photos that include Dad, Birth Dad, or Grandfather
!
Kids & Pets Photo Contest
Meet
the winners
, Hennie and her pups, and the finalists.
Family Hugs Photo Contest
Meet
the winners
, Lindley and her parents, and the finalists.
Photo Albums
Adoption Photo: The Only One Who Laughs at Daddy's Jokes
My wife Mandie, my daughter Gracie and I hiking in Maine. I don't remember exactly what I said or did right before the photo to make her look up at me laughing. But, she is often the only to laugh at my goofiness.
Tags:
With Dad
Laughing
Outdoors
Park
Summer
Birth Countries of Children Pictured:
US
Recently Uploaded
AF Daily Pic


Daddy / Daughter photo shoot
- Uploaded by ambrosescience on May 26, 2017
20 Views | Add a comment...
Find an Adoption Attorney or Agency
CURRENT ISSUE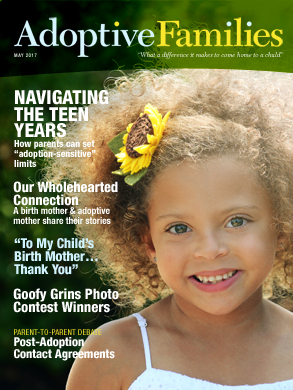 • Parenting adopted teens and setting limits
• "On letting go...and meeting my daughters" - a linked birth mother and adoptive mother share their stories
• Parents debate post-adoption contact agreements
• "Dear Other Mothers...thank you"
Read the issue online > | View the contents >
---