Photo Contests
Mommy Moments Photo Contest
Share
photos that include Mom, Birth Mom, or Grandmother
!
Daddy Moments Photo Contest
Share
photos that include Dad, Birth Dad, or Grandfather
!
Kids & Pets Photo Contest
Meet
the winners
, Hennie and her pups, and the finalists.
Family Hugs Photo Contest
Meet
the winners
, Lindley and her parents, and the finalists.
Photo Albums
Adoption Photo: Carah, 11 Months, U.S.
Carah (11 months, U.S.) / daughter of Jake and Corrie, Georgia)
PHOTOGRAPHER: Corrie
"Carah was born on the fourth of July, she's our little Miss Independence. It was a couple of weeks before her first birthday, and I wanted to take some pictures at one of my favorite places in downtown Dallas, Georgia—it's an old factory building, and all the doors and windows on one side are painted turquoise. In this shot, she was laughing at her older brother." -CORRIE
Tags:
Formal Portrait
Fourth of July
Laughing
Birth Countries of Children Pictured:
US
Recently Uploaded
AF Daily Pic


Mom & her Lil Bosses
- Uploaded by MommyxTwo on May 18, 2017
114 Views | Add a comment...
Find an Adoption Attorney or Agency
CURRENT ISSUE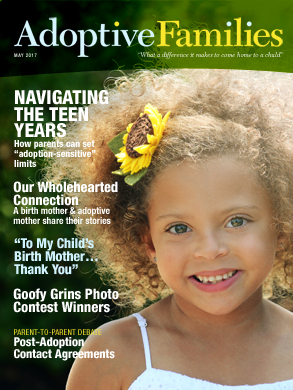 • Parenting adopted teens and setting limits
• "On letting go...and meeting my daughters" - a linked birth mother and adoptive mother share their stories
• Parents debate post-adoption contact agreements
• "Dear Other Mothers...thank you"
Read the issue online > | View the contents >
---