Photo Contests
Summer Memories Photo Contest
Share
photos that show your kids enjoying the warm days and nights
!
Goofy Grins Photo Contest
Meet
the winner
, Yuchen, and the finalists.
Kids & Pets Photo Contest
Meet
the winners
, Hennie and her pups, and the finalists.
Family Hugs Photo Contest
Meet
the winners
, Lindley and her parents, and the finalists.
Photo Albums
Adoption Photo: Carah, 11 Months, U.S.
Carah (11 months, U.S.) / daughter of Jake and Corrie, Georgia)
PHOTOGRAPHER: Corrie
"Carah was born on the fourth of July, she's our little Miss Independence. It was a couple of weeks before her first birthday, and I wanted to take some pictures at one of my favorite places in downtown Dallas, Georgia—it's an old factory building, and all the doors and windows on one side are painted turquoise. In this shot, she was laughing at her older brother." -CORRIE
Tags:
Formal Portrait
Fourth of July
Laughing
Birth Countries of Children Pictured:
US
Recently Uploaded
AF Daily Pic


Proudly Making Messes
- Uploaded by MommyxTwo on Jul 16, 2017
76 Views | Add a comment...
Find an Adoption Attorney or Agency
CURRENT ISSUE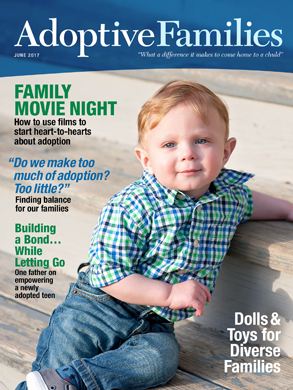 • Movies with adoption themes + questions to spark discussion
• A father on empowering his newly adopted teen
• Diverse dolls and toys for transracial adoptive families
• "Do we talk about adoption enough? Too much?"
---