National Adoption Directory
Find an Adoption Agency
Find an Adoption Attorney
U.S. Foster Adoptive Families
question about mild, moderate special needs
I am waiting to be matched with a child from foster care. While I wait I'm looking are certain sites and other things. I noticed that they mostly state the special needs as mild, moderate, and severe. I was just curious as to what type of needs fall into each catorgory. I sent for more information on a certain child who is listed with a mild under emotional.
Also I sent in the inquiry for the children and noticed that we have the same caseworker, if my caseworker didn't suggest these children for me from the start does that mean she doesn't think they would be a good match for me. Also I think they may be newly listed to the site because they are legal risk children.
CURRENT ISSUE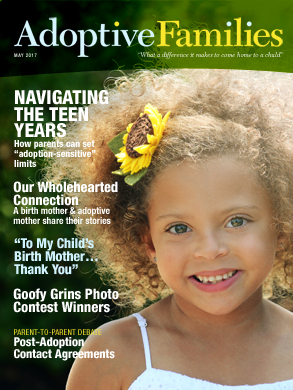 • Parenting adopted teens and setting limits
• "On letting go...and meeting my daughters" - a linked birth mother and adoptive mother share their stories
• Parents debate post-adoption contact agreements
• "Dear Other Mothers...thank you"
Read the issue online > | View the contents >
---
Find an Adoption Attorney or Agency