National Adoption Directory
Find an Adoption Agency
Find an Adoption Attorney
U.S. Adoptive Families
What do you say...
I recently posted a photo of my daughter, me, and her birthmom from our last visit on facebook. I have had several people comment on the photo saying things like "Oh you are so amazing" and "You are such a great Mom".... etc, etc, etc. I want to say something but I don't really know what to say.
I don't feel amazing…. I do it because she is a part of our family and I do it for my daughter.
I don't want to sound snoty or anything so how do you nicely say I am not the amazing one, her birth mom is??!!
CURRENT ISSUE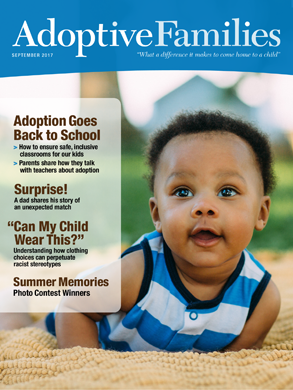 • Promoting Adoption Awareness at School
• "Caught on Camera: Our Surprise Adoption Match"
• Can Black Children Wear Clothing with Watermelons?
• Parents Share: Talking with the Teacher About Adoption
---
Find an Adoption Attorney or Agency