National Adoption Directory
Find an Adoption Agency
Find an Adoption Attorney
Parents of Teens and Young Adults
One2 Year Old Son Refuses to Follow the Rules
We adopted our oldest when he was 4 1/2 from foster care and he is now 12. He has some attachment issues, but compared to some of our other adopted kids, it has always been relatively minor. This year, as he has made his way into adolescents he has become extremely difficult. He doesn't do anything to our face and there is no raging or fighting, but he refuses to follow any of our rules. He lies, steals from us, breaks every rule. He rides the bus to and from school and has been walking from school to the high school to get on the bus there even though the bus yard has told him as have we that he is not allowed to do it. He gets caught in everything he does, but it does not stop him. He stole a kid's iPhone at school to use because he lost his after posting inappropriate things and even after we gave him chances to earn it back he just kept doing it. His answer to any of this is "I don't like the rules" as if this justifies the lies and dishonesty. He acts hurt every time he gets caught, but continues the next day to do the same thing. There are no more restrictions or consequences we could possibly give. I am at a complete loss on what to do and concerned for how this behavior will escalate as he moves into further teen years if this is how he is acting already at 12. What can you do? I only listed a few things but the list of what he does is pretty extensive and literally everyday he take the opportunity to at least try to break the rules behind our backs. I am so tired of it all and it has only been a year. I fear this is going to go on through is teenage years and I don't know if I can take that. It has me concerned for what is going to happen when my next eldest who is 10 gets to his age as well.
CURRENT ISSUE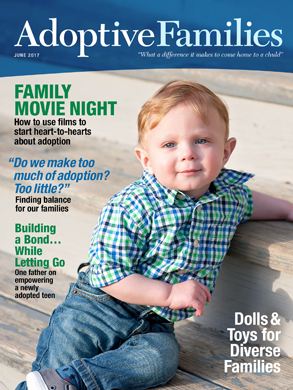 • Movies with adoption themes + questions to spark discussion
• A father on empowering his newly adopted teen
• Diverse dolls and toys for transracial adoptive families
• "Do we talk about adoption enough? Too much?"
---
Find an Adoption Attorney or Agency