National Adoption Directory
Find an Adoption Agency
Find an Adoption Attorney
In the Current Issue
New Study Finds Birth Mothers Have Unmet Needs After Placement
Read "Supporting Birth Mothers, Strengthening Families" from the Fall 2013 issue of Adoptive Families magazine.
A new national survey commissioned by On Your Feet Foundation Northern California delved into birth mothers' emotional experiences and life after placement, and found they had many unmet needs. We present the initial findings.
What was contact with your child's birth mother like during the first year after the adoption? In the years since?
CURRENT ISSUE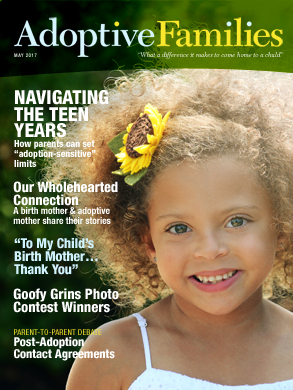 • Parenting adopted teens and setting limits
• "On letting go...and meeting my daughters" - a linked birth mother and adoptive mother share their stories
• Parents debate post-adoption contact agreements
• "Dear Other Mothers...thank you"
Read the issue online > | View the contents >
---
Find an Adoption Attorney or Agency