National Adoption Directory
Find an Adoption Agency
Find an Adoption Attorney
Open Adoption Families
Navigating through birth parent/family visits
So we have an open adoption plan with BM and our daughter is now 4 y.o. Everything has been going well since birth… we send a yearly letter/pictures along with an in person visit at a restaurant and then amusement park. But I'm wondering if I am doing enough? We have had some talks with our daughter so far about who she is and how she came to be, etc. She's had minimal questions so far and I understand that will change as she gets older. At what age should we be inviting BM to our house? Or ever? Or if it doesn't go well is it awkward to go back to the restaurant visits? Do we keep it like it is if everything is going well? When do you invite extended family into the pic? Should you? What do you call them… Joe? Uncle Joe? Birth Uncle Joe? Do you introduce them to the rest of our family aunts, uncles, cousins etc.?? If so at what age do you feel is appropriate? I feel like that is up to my daughter when she is an adult to share her story when she wants to or even IF she wants to with whomever SHE chooses to. I feel like it might be compromising her privacy to invite her birth mom/family into my husband's and mine. I don't really want to leave it up to my daughter as a child to decide the level of visits. For example, as a child she may think the more the merrier let's have BM, birth grandparents and birth aunts over for Xmas and birthdays every year… but then as an adult she may change her mind and resent so much of her privacy shared and resent me for not protecting her as she was so young and didn't know any better. Just looking for some feedback for someone that can share similar experiences??
CURRENT ISSUE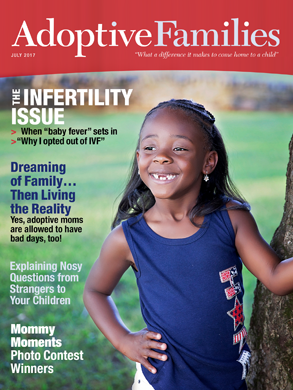 • Excerpt from The Art of Waiting: When "Baby Fever" hits
• One mom shares why she opted out of IVF
• On explaining to our children why our families draw stares and questions
• "Aren't adoptive moms allowed to have a bad day?!"
---
Find an Adoption Attorney or Agency