National Adoption Directory
Find an Adoption Agency
Find an Adoption Attorney
U.S. Adoptive Families
Moving up to next day care class
Hello! I have a 14 month old little boy who we are in the process of adopting. He was placed with us three months ago! He has developmental delays but has made great gains! He went for not being able to independently sit to crawling around and pulling up to stand in three months!
He is currently in the transition class in day care. They are suppose to move on to the next class at 15 months. His teacher talked to me about moving him up or keeping him in the transition class longer. They are suppose to be walking before they move up, however she said they have had one child who's therapist recommended moving him up even though he couldn't walk so he could be around more advanced kiddos. Have any of you ran into this? We are not sure if we want to move him up or wait until he is walking. There is a smaller child to adult ratio in the class he is in now so he is getting more attention now!
CURRENT ISSUE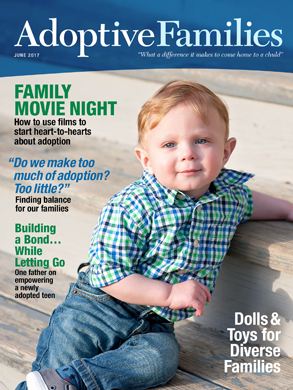 • Movies with adoption themes + questions to spark discussion
• A father on empowering his newly adopted teen
• Diverse dolls and toys for transracial adoptive families
• "Do we talk about adoption enough? Too much?"
---
Find an Adoption Attorney or Agency