National Adoption Directory
Find an Adoption Agency
Find an Adoption Attorney
Older Parents
"Is 60 too old to adopt a newborn?"
Has anyone read this? If so, what are your thoughts?
The link is http://answers.yahoo.com/question/index?qid=20100914084904AA7yETs.
Some of the comments are:
Yes, it's not fair to the child. AP could die.
Yes, 75 is oo old to wrangle a teen.
Yes, AP can't remember details.
Yes, AP are too tired.
I encourage you all to read this! Suerte! (Good luck)
CURRENT ISSUE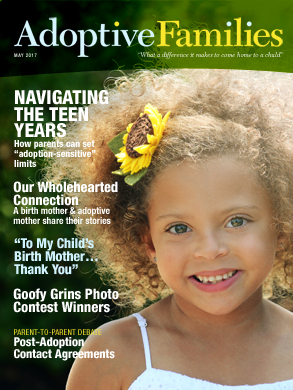 • Parenting adopted teens and setting limits
• "On letting go...and meeting my daughters" - a linked birth mother and adoptive mother share their stories
• Parents debate post-adoption contact agreements
• "Dear Other Mothers...thank you"
Read the issue online > | View the contents >
---
Find an Adoption Attorney or Agency