National Adoption Directory
Find an Adoption Agency
Find an Adoption Attorney
Older Parents
"Is 60 too old to adopt a newborn?"
Has anyone read this? If so, what are your thoughts?
The link is http://answers.yahoo.com/question/index?qid=20100914084904AA7yETs.
Some of the comments are:
Yes, it's not fair to the child. AP could die.
Yes, 75 is oo old to wrangle a teen.
Yes, AP can't remember details.
Yes, AP are too tired.
I encourage you all to read this! Suerte! (Good luck)
CURRENT ISSUE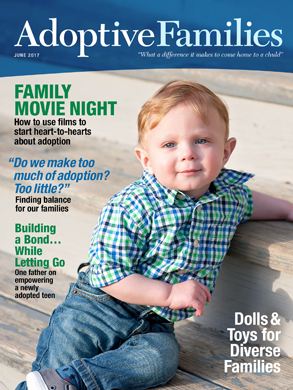 • Movies with adoption themes + questions to spark discussion
• A father on empowering his newly adopted teen
• Diverse dolls and toys for transracial adoptive families
• "Do we talk about adoption enough? Too much?"
---
Find an Adoption Attorney or Agency