National Adoption Directory
Find an Adoption Agency
Find an Adoption Attorney
Open Adoption Families
Inconsistent Visits - Need Advice
Hi Friends -
I need some advice. My daughter is now 6. We have an open adoption although its very informal (nothing every written out or agreed upon). We view BM as a little sister and she's our friend on social media so she gets a ton of updates and pictures. However, we have had issues with our physical visits. We visit her state once a year on vacation and like to meet up with her. Its worked out well 2x. The other times she will cancel the day before for whatever reason. We bought her an airplane ticket to visits us a year ago and she didn't get on the airplane. She is really nice and I know she wants to see us all but she makes bad decisions (like showing up 15 minutes before a flight to the airport). My daughter is starting to become very disappointed and hurt when BM doesn't show. Even I feel sad because I love her. Have any of you been in a situation like that? I'm not looking to cut out BM but I also realize it's not healthy that she keeps disappointing us all. What do you think? Thanks!
CURRENT ISSUE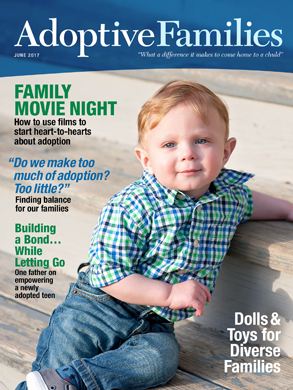 • Movies with adoption themes + questions to spark discussion
• A father on empowering his newly adopted teen
• Diverse dolls and toys for transracial adoptive families
• "Do we talk about adoption enough? Too much?"
---
Find an Adoption Attorney or Agency