National Adoption Directory
Find an Adoption Agency
Find an Adoption Attorney
U.S. Foster Adoptive Families
How do we tell our 6 year old they were adopted?
Our child joined our family as a baby in foster care, then we became a forever family. There have been visits with the birthparents over the years, but they are our friends. We've waited to tell the story and now feel it is time to share because many questions are starting to come up about being in my tummy. Where do we start?
CURRENT ISSUE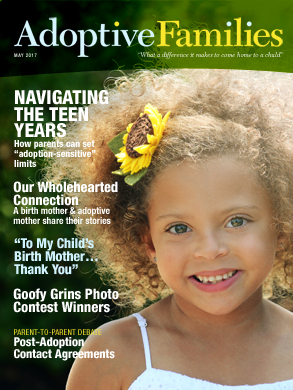 • Parenting adopted teens and setting limits
• "On letting go...and meeting my daughters" - a linked birth mother and adoptive mother share their stories
• Parents debate post-adoption contact agreements
• "Dear Other Mothers...thank you"
Read the issue online > | View the contents >
---
Find an Adoption Attorney or Agency