National Adoption Directory
Find an Adoption Agency
Find an Adoption Attorney
U.S. Adoptive Families
Finalization timeline
I know finalization times vary by state. We finalize in MS which is 6-7 months. Our daughter was born in September. I'm wondering whe we will get a date for finalizing. Anyexperiences on how the process works that might help. Despite being laid back compared to most of NYC area where we live, the southern pace drives me insane! I'm not even looking to hurry it up per se, I just wish I could get a date!
CURRENT ISSUE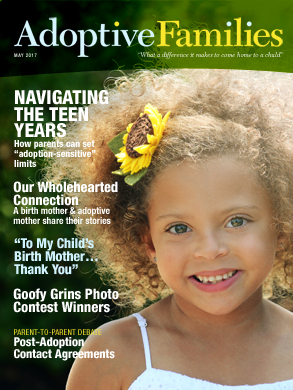 • Parenting adopted teens and setting limits
• "On letting go...and meeting my daughters" - a linked birth mother and adoptive mother share their stories
• Parents debate post-adoption contact agreements
• "Dear Other Mothers...thank you"
Read the issue online > | View the contents >
---
Find an Adoption Attorney or Agency