National Adoption Directory
Find an Adoption Agency
Find an Adoption Attorney
U.S. Foster Adoptive Families
Children Missing Foster mom
I have recently had a 3 yr old boy and 4 year old girl placed in my home for adoption. They were with their previous foster mom for 2 and a half years. We are on our 6th day they are really starting to miss their foster family. Do any of have any tips or helpful suggestions on helping through this time. The foster mom is going to cal tomorrow ( we agreed on once a week for starters) and I do not know if that will make it better or worse. It just breaks my heart to see them hurting so bad right now. I try to help them but I think their could be more I could do.
CURRENT ISSUE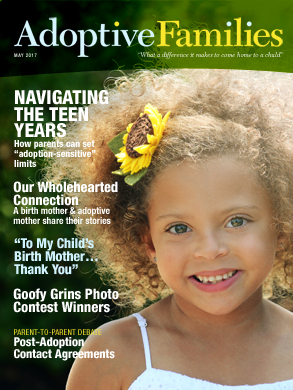 • Parenting adopted teens and setting limits
• "On letting go...and meeting my daughters" - a linked birth mother and adoptive mother share their stories
• Parents debate post-adoption contact agreements
• "Dear Other Mothers...thank you"
Read the issue online > | View the contents >
---
Find an Adoption Attorney or Agency