National Adoption Directory
Find an Adoption Agency
Find an Adoption Attorney
China Adoptive Families
CCAI and waiting child questions
Looking for information on CCAI-they are at the top of our list. Also, tackling the special needs list -I've been researching the medical needs-not sure if I'm scared or over thinking things at this point. We are considering mild/correctable needs (which is different for everyone). For those that have been down this road I would love to hear about your experiences and how you made the decision on certain conditions. Originally I had CL/CP but after further research and talking with others we have decided against it. I am currently researching club foot -anyone have any words of wisdom? Our hope if for a girl AYAP—-like most!
CURRENT ISSUE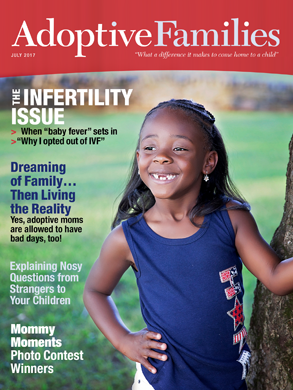 • Excerpt from The Art of Waiting: When "Baby Fever" hits
• One mom shares why she opted out of IVF
• On explaining to our children why our families draw stares and questions
• "Aren't adoptive moms allowed to have a bad day?!"
---
Find an Adoption Attorney or Agency