National Adoption Directory
Find an Adoption Agency
Find an Adoption Attorney
China Adoptive Families
CCAI and waiting child questions
Looking for information on CCAI-they are at the top of our list. Also, tackling the special needs list -I've been researching the medical needs-not sure if I'm scared or over thinking things at this point. We are considering mild/correctable needs (which is different for everyone). For those that have been down this road I would love to hear about your experiences and how you made the decision on certain conditions. Originally I had CL/CP but after further research and talking with others we have decided against it. I am currently researching club foot -anyone have any words of wisdom? Our hope if for a girl AYAP—-like most!
CURRENT ISSUE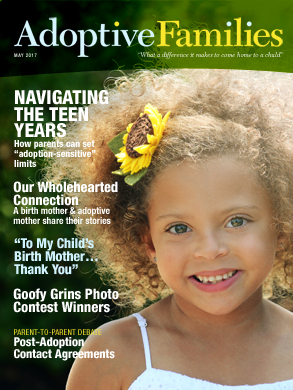 • Parenting adopted teens and setting limits
• "On letting go...and meeting my daughters" - a linked birth mother and adoptive mother share their stories
• Parents debate post-adoption contact agreements
• "Dear Other Mothers...thank you"
Read the issue online > | View the contents >
---
Find an Adoption Attorney or Agency