National Adoption Directory
Find an Adoption Agency
Find an Adoption Attorney
U.S. Foster Adoptive Families
Advice with lying
Hello all. My husband and I have had our 4 year old son (waiting for adoption to finalize) for 8 months now. Parental rights were terminated at the 3rd month and ever since then, has not seen his BM or BGM. He has continued to lie to us about little things, that have no significance and it's even silly to lie about (ex. we asked him if he had finished his banana snack and he said 'no', we went to the table and it wasn't there…we asked him where it was and he said that now he only ate half and threw it away….we checked…and of course he had finished i….why?) to making up stories. We understand why he does it but are frustrated on how we can help him understand that he doesn't have to lie anymore. We don't lie in our household and we are very honest with him in regards to what is going on around him. We have modeled this behavior for him but it doesn't seem to be sinking in….please, does anyone have any advice on how we can make him understand that he doesn't have to lie.
CURRENT ISSUE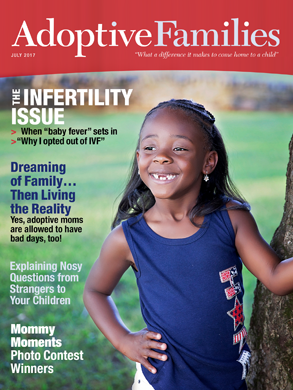 • Excerpt from The Art of Waiting: When "Baby Fever" hits
• One mom shares why she opted out of IVF
• On explaining to our children why our families draw stares and questions
• "Aren't adoptive moms allowed to have a bad day?!"
---
Find an Adoption Attorney or Agency