National Adoption Directory
Find an Adoption Agency
Find an Adoption Attorney
Adoption Agencies (Reviews)
Abby's One True Gift
I'm currently with an agency in Minnesota. It's been a year today. The agency spends a lot of time on the birth mother and has a failure rate of < 5%. I like that they offer counseling to the birth mother 24/7 for as many years as she'd like. I like that the total cost is most likely to be under $20k. However, time. Abby's One True Gift is telling me their rate of failure is 30% and I'd be out $6 - $7k. Wondering if anyone has had experience with Abby's and if these statistics are normal. Thanks for all the help!!
CURRENT ISSUE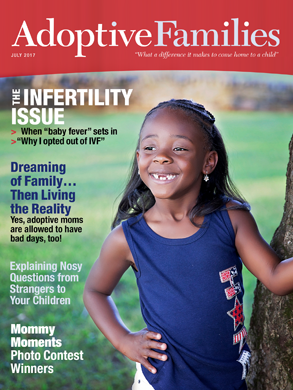 • Excerpt from The Art of Waiting: When "Baby Fever" hits
• One mom shares why she opted out of IVF
• On explaining to our children why our families draw stares and questions
• "Aren't adoptive moms allowed to have a bad day?!"
---
Find an Adoption Attorney or Agency