Adoption Groups
Connect with other adoptive families to share experiences and ask questions
Browse our Adoption Groups using the sorting options below
Read Our Community and Commenting Guidelines
Transracial Families


For transracial and/or multicultural families to discuss this unique aspect of adoption—domestic or international.

Please read our guidelines before posting.

1525 Members
JOIN!
Waiting to Adopt


For anyone navigating the adoption process—homestudies, dossiers, profiles, referrals—and waiting, waiting, waiting.
This is a group to seek support from others who are waiting, not a group to seek a potential adoption match.

Please read our guidelines before posting.

1091 Members
JOIN!
Adoption Agencies (Reviews)


Use this group to share your experiences with adoption agencies you have worked with. In order to make your review as helpful as possible, please indicate when you adopted (adoptions that took place within the last two years would be most relevant to current prospective adoptive parents). All reviews, positive or negative, are welcome. As in any posts to AdoptiveFamiliesCircle, please word your positive or negative reviews in a civil and constructive manner. However, we reserve the right to remove any threads or comments that are hateful, out-of-date, use derogatory or foul language, are intended solely to intimidate or harass, or are inappropriate in any other way. If you are posting on behalf of an adoption agency or adoption attorney, please identify yourself.

Please read our guidelines before posting.

970 Members
JOIN!
Older Parents


For older parents of children adopted domestically or internationally.

Please read our guidelines before posting.

720 Members
JOIN!
New Adoption Discussions: Weigh In!
"Our daughter doesn't have close relationships; only surface ones. Will counseling help? I am concerned about her future and relationships."




"Our six-year-old's birth mother often cancels in-person visits. Last year we bought her tickets to visit us, but she didn't make it on the plane. My daughter is starting to become very disappointed when this happens."



New Adoption Group Activity
Find an Adoption Attorney or Agency
CURRENT ISSUE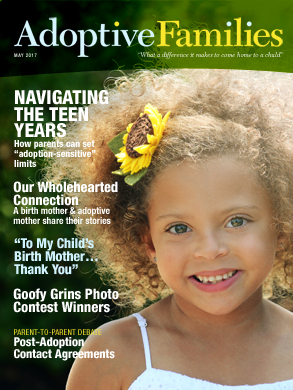 • Parenting adopted teens and setting limits
• "On letting go...and meeting my daughters" - a linked birth mother and adoptive mother share their stories
• Parents debate post-adoption contact agreements
• "Dear Other Mothers...thank you"
Read the issue online > | View the contents >
---