National Adoption Directory
Find an Adoption Agency
Find an Adoption Attorney
Photo Contests
Mommy Moments Photo Contest
Share
photos that include Mom, Birth Mom, or Grandmother
!
Daddy Moments Photo Contest
Share
photos that include Dad, Birth Dad, or Grandfather
!
Kids & Pets Photo Contest
Meet
the winners
, Hennie and her pups, and the finalists.
Family Hugs Photo Contest
Meet
the winners
, Lindley and her parents, and the finalists.
-->
Join the Circle Today!
Find friendship and support in a new adoption community from Adoptive Families magazine. Join groups, share photos and stories, get answers, and connect with families like yours.
<< Featured Photo
Kevin
,
posted by AFC Editors to 2015 Adoptive Families Cover Photo Contest
New Adoption Discussions: Weigh In!
"Our daughter doesn't have close relationships; only surface ones. Will counseling help? I am concerned about her future and relationships."




"Our six-year-old's birth mother often cancels in-person visits. Last year we bought her tickets to visit us, but she didn't make it on the plane. My daughter is starting to become very disappointed when this happens."



Latest Activity on AdoptiveFamiliesCircle
Recent Adoption Blog Posts
Elijah Thomas was adopted at three months old and grew up in a closed adoption. When he was 18, he met his birth mother for…

First, let me send out a shoutout to TheMomproviser blogger, Ambar Chavez, for cluing me in about the #RockingMotherhood challenge and making me write, ha!…

Okay, this post isn't actually a review of the Oscar-nominated movie Lion. It's more like—here's what deeply moved this adoptive mama after watching, tissue box…
CURRENT ISSUE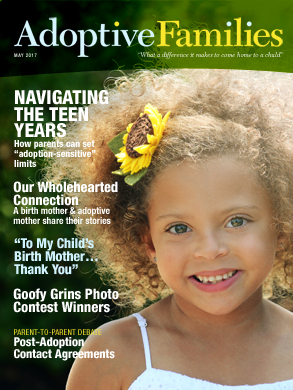 • Parenting adopted teens and setting limits
• "On letting go...and meeting my daughters" - a linked birth mother and adoptive mother share their stories
• Parents debate post-adoption contact agreements
• "Dear Other Mothers...thank you"
Read the issue online > | View the contents >
---
Find an Adoption Attorney or Agency
AF Daily Pic


Daddy / Daughter photo shoot
- Uploaded by ambrosescience on May 26, 2017
64 Views | Add a comment...
New Video


Boxtrolls Adoption PSA
- Posted on Sep 26, 2014 at {entry_date format="%g:%i%a"}
Most Active Adoption Groups